2011 Super Bowl Ads: Imported From Detroit Feat. Eminem
2:03
Niveau de difficulté:
Facile
2011 Super Bowl Ads:
Imported From Detroit Feat. Eminem
Eminem makes a surprise appearance in a car commercial which is about a lot more than cars. It's about the survival and future of a city, Detroit.
Vocabulaire clé
luxury
the finer things
folks
the Windy City
Sin City
Emerald City
Motor City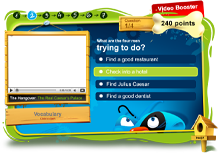 Améliorez votre anglais
Un Video Booster est un exercice vidéo d'anglais en 6 étapes qui vous permet de travailler le vocabulaire, les expressions idiomatiques et la grammaire d'un extrait vidéo.
Free Trial
Essai gratuit
Pour jouer ce Video booster, activez votre période d'essai gratuite de 3 jours. Vous aurez accès plus de 1.000 exercices vidéo comme celui-ci ainsi qu'à l'intégralité de nos dictionnaires visuels et jeux linguistiques.
Prévisualisation de la vidéo
2011 Super Bowl Ads: Imported From Detroit Feat. Eminem
17 commentaires