2012 Super Bowl Ads: Halftime In America
2:01
Niveau de difficulté:
Intermédiaire
2012 Super Bowl Ads:
Halftime In America
Clint Eastwood narrates and stars in this two-minute Superbowl ad from Chrysler, following on from their 2011 ad with Eminem. Some have accused the current commercial of having a pro-Obama bias in this U.S. Presidential Election year. See the ad, do the Video Booster, and judge for yourself.
Vocabulaire clé
halftime
comeback
discord
knocked out
rallied
downturn
come from behind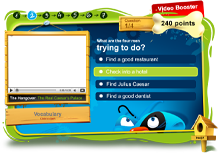 Améliorez votre anglais
Un Video Booster est un exercice vidéo d'anglais en 6 étapes qui vous permet de travailler le vocabulaire, les expressions idiomatiques et la grammaire d'un extrait vidéo.
Free Trial
Essai gratuit
Pour jouer ce Video booster, activez votre période d'essai gratuite de 3 jours. Vous aurez accès plus de 1.000 exercices vidéo comme celui-ci ainsi qu'à l'intégralité de nos dictionnaires visuels et jeux linguistiques.
Prévisualisation de la vidéo
2012 Super Bowl Ads: Halftime In America
11 commentaires