AP: First Chinese Woman Astronaut Back From Space
1:18
Niveau de difficulté:
Difficile
AP:
First Chinese Woman Astronaut Back From Space
A Chinese capsule with three astronauts aboard has parachuted back to Earth after a successful space module mission. Liu Yang, the country's first female in space, was part of the crew.
Vocabulaire clé
milestone
orbiting
space station
re-entry
control room
breakthrough
motherland
mission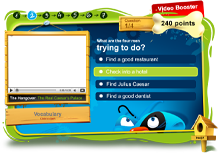 Améliorez votre anglais
Un Video Booster est un exercice vidéo d'anglais en 6 étapes qui vous permet de travailler le vocabulaire, les expressions idiomatiques et la grammaire d'un extrait vidéo.
Free Trial
Essai gratuit
Pour jouer ce Video booster, activez votre période d'essai gratuite de 3 jours. Vous aurez accès plus de 1.000 exercices vidéo comme celui-ci ainsi qu'à l'intégralité de nos dictionnaires visuels et jeux linguistiques.
Prévisualisation de la vidéo
AP: First Chinese Woman Astronaut Back From Space
17 commentaires