Chariots Of Fire: Running Around The Courtyard
2:06
Niveau de difficulté:
Facile
Chariots Of Fire:
Running Around The Courtyard
The famous courtyard race scene (filmed at Trinity College, Cambridge) from the iconic 1981 film Chariots of Fire, which is being re-released in July 2012 on the occasion of the London 2012 Summer Olympic Games.
Vocabulaire clé
draw back
challenger
push
shindig
chap
Delighted
Splendid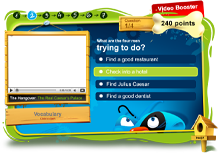 Améliorez votre anglais
Un Video Booster est un exercice vidéo d'anglais en 6 étapes qui vous permet de travailler le vocabulaire, les expressions idiomatiques et la grammaire d'un extrait vidéo.
Free Trial
Essai gratuit
Pour jouer ce Video booster, activez votre période d'essai gratuite de 3 jours. Vous aurez accès plus de 1.000 exercices vidéo comme celui-ci ainsi qu'à l'intégralité de nos dictionnaires visuels et jeux linguistiques.
Prévisualisation de la vidéo
Chariots Of Fire: Running Around The Courtyard
13 commentaires