Gambit: Meeting At Heathrow
1:48
Niveau de difficulté:
Intermédiaire
Gambit:
Meeting At Heathrow
In this clip from the comedy about a carefully planned fraudulent sale that ends up going in all directions, art curator Harry Deane (Colin Firth) greets a participant in his scheme, Texas rodeo queen PJ Puznowski (Cameron Diaz), upon her arrival at London's Heathrow airport.
Vocabulaire clé
flight
chatting up
Lord
spending
Room Service
hush-hush
fraternising
expensive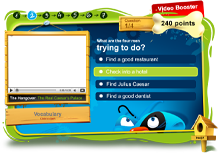 Améliorez votre anglais
Un Video Booster est un exercice vidéo d'anglais en 6 étapes qui vous permet de travailler le vocabulaire, les expressions idiomatiques et la grammaire d'un extrait vidéo.
Free Trial
Essai gratuit
Pour jouer ce Video booster, activez votre période d'essai gratuite de 3 jours. Vous aurez accès plus de 1.000 exercices vidéo comme celui-ci ainsi qu'à l'intégralité de nos dictionnaires visuels et jeux linguistiques.
Prévisualisation de la vidéo
Gambit: Meeting At Heathrow
11 commentaires