Hotel Transylvania: Birthday
1:02
Niveau de difficulté:
Facile
Hotel Transylvania:
Birthday
In this clip from the Sony Pictures animated film about a "normal" family of vampires, Dracula (Adam Sandler) promises to keep his word about allowing his teenaged daughter, Mavis (Selena Gomez) more freedom... now that she has turned 118!
Vocabulaire clé
adult
safe
word
birthday
playing with
choices
old enough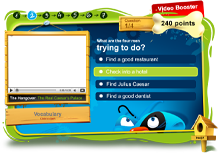 Améliorez votre anglais
Un Video Booster est un exercice vidéo d'anglais en 6 étapes qui vous permet de travailler le vocabulaire, les expressions idiomatiques et la grammaire d'un extrait vidéo.
Free Trial
Essai gratuit
Pour jouer ce Video booster, activez votre période d'essai gratuite de 3 jours. Vous aurez accès plus de 1.000 exercices vidéo comme celui-ci ainsi qu'à l'intégralité de nos dictionnaires visuels et jeux linguistiques.
Prévisualisation de la vidéo
Hotel Transylvania: Birthday
44 commentaires