Lonely Planet: Venice Beach in Los Angeles
128:00
Niveau de difficulté:
Facile
Lonely Planet:
Venice Beach in Los Angeles
Welcome to the centre of LA's beach culture, where you can work on your tan, surf or play volleyball, and rub shoulders with hustlers, artists and exhibitionists on an ocean-front walk.
Vocabulaire clé
Head on over
firsthand
hustlers
drudgery
produce
b-ball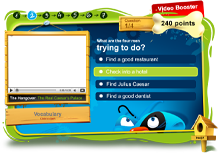 Améliorez votre anglais
Un Video Booster est un exercice vidéo d'anglais en 6 étapes qui vous permet de travailler le vocabulaire, les expressions idiomatiques et la grammaire d'un extrait vidéo.
Free Trial
Essai gratuit
Pour jouer ce Video booster, activez votre période d'essai gratuite de 3 jours. Vous aurez accès plus de 1.000 exercices vidéo comme celui-ci ainsi qu'à l'intégralité de nos dictionnaires visuels et jeux linguistiques.
Prévisualisation de la vidéo
Lonely Planet: Venice Beach in Los Angeles
14 commentaires