Michael Wigge: How To Travel The World For Free
3:44
Niveau de difficulté:
Facile
Michael Wigge:
How To Travel The World For Free
Michael Wigge embodies the true spirit of travel as he jumps from situation to situation in his journey "to the end of the earth" without spending any money at all.
Vocabulaire clé
good for
penniless
odd-jobbing
in return for
take
manages it
pessimists
means of transport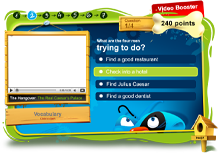 Améliorez votre anglais
Un Video Booster est un exercice vidéo d'anglais en 6 étapes qui vous permet de travailler le vocabulaire, les expressions idiomatiques et la grammaire d'un extrait vidéo.
Free Trial
Essai gratuit
Pour jouer ce Video booster, activez votre période d'essai gratuite de 3 jours. Vous aurez accès plus de 1.000 exercices vidéo comme celui-ci ainsi qu'à l'intégralité de nos dictionnaires visuels et jeux linguistiques.
Prévisualisation de la vidéo
Michael Wigge: How To Travel The World For Free
16 commentaires