Pulp Fiction: Royale With Cheese
0:48
Niveau de difficulté:
Facile
Pulp Fiction:
Royale With Cheese
In this classic scene from the Quentin Tarantino cult movie Pulp Fiction, professional assassins Vincent (John Travolta) and Jules (Samuel L. Jackson) discuss the differences in where alcohol can be served and what fast food is called in Europe as compared with America.
Vocabulaire clé
differences
movie theatre
Quarter Pounder
metric system
Burger King
funniest
paper cup
beer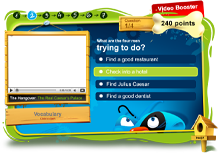 Améliorez votre anglais
Un Video Booster est un exercice vidéo d'anglais en 6 étapes qui vous permet de travailler le vocabulaire, les expressions idiomatiques et la grammaire d'un extrait vidéo.
Free Trial
Essai gratuit
Pour jouer ce Video booster, activez votre période d'essai gratuite de 3 jours. Vous aurez accès plus de 1.000 exercices vidéo comme celui-ci ainsi qu'à l'intégralité de nos dictionnaires visuels et jeux linguistiques.
Prévisualisation de la vidéo
Pulp Fiction: Royale With Cheese
8 commentaires