Real Steel: Are You Ready?
1:46
Niveau de difficulté:
Intermédiaire
Real Steel:
Are You Ready?
In this scene from the movie about a modest training robot trained to challenge world champion boxing machines, Charlie (Hugh Jackman) and Max (Dakota Goya) prepare their contender to fight the champ.
Vocabulaire clé
showtime
ring
kowtow
bout
rounds
challenger
champion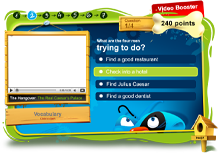 Améliorez votre anglais
Un Video Booster est un exercice vidéo d'anglais en 6 étapes qui vous permet de travailler le vocabulaire, les expressions idiomatiques et la grammaire d'un extrait vidéo.
Free Trial
Essai gratuit
Pour jouer ce Video booster, activez votre période d'essai gratuite de 3 jours. Vous aurez accès plus de 1.000 exercices vidéo comme celui-ci ainsi qu'à l'intégralité de nos dictionnaires visuels et jeux linguistiques.
Prévisualisation de la vidéo
Real Steel: Are You Ready?
25 commentaires