Spy Kids: All the Time in the World: I Love My Work
0:41
Niveau de difficulté:
Facile
Spy Kids: All the Time in the…
I Love My Work
Marissa (Jessica Alba) calls her husband while chasing Time Keeper (Jeremy Piven) and on her way to the hospital to have a her baby. This is the latest release from the Spy Kids series.
Vocabulaire clé
pregnant
panic
Gotcha
on my way
tying up
visit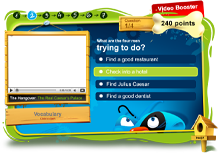 Améliorez votre anglais
Un Video Booster est un exercice vidéo d'anglais en 6 étapes qui vous permet de travailler le vocabulaire, les expressions idiomatiques et la grammaire d'un extrait vidéo.
Free Trial
Essai gratuit
Pour jouer ce Video booster, activez votre période d'essai gratuite de 3 jours. Vous aurez accès plus de 1.000 exercices vidéo comme celui-ci ainsi qu'à l'intégralité de nos dictionnaires visuels et jeux linguistiques.
Prévisualisation de la vidéo
Spy Kids: All the Time in the…I Love My Work
29 commentaires