Visit Britain: Twiggy
1:45
Niveau de difficulté:
Intermédiaire
Visit Britain:
Twiggy
Nobody knows fashion like Twiggy and nowhere does fashion quite like the UK. Find out why this Sixties sensation loves the UK shopping scene.
Vocabulaire clé
sixties
Twiggy
burst on the scene
stable
go for it
array
brave
Carnaby Street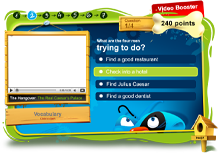 Améliorez votre anglais
Un Video Booster est un exercice vidéo d'anglais en 6 étapes qui vous permet de travailler le vocabulaire, les expressions idiomatiques et la grammaire d'un extrait vidéo.
Free Trial
Essai gratuit
Pour jouer ce Video booster, activez votre période d'essai gratuite de 3 jours. Vous aurez accès plus de 1.000 exercices vidéo comme celui-ci ainsi qu'à l'intégralité de nos dictionnaires visuels et jeux linguistiques.
Prévisualisation de la vidéo
12 commentaires