Associated Press: Facebook Founder Gives $100 Million to Newark Schools
2:02
Niveau de difficulté:
Difficile
Associated Press:
Facebook Founder Gives $100 Million to Newark…
Facebook founder Mark Zuckerberg is about to make a lot of new friends: The 26-year-old tycoon is pouring $100 million of his staggering fortune into Newark, N.J.'s school system after hitting it off with the mayor of the poverty-stricken city.
Vocabulaire clé
tycoon
hinting
public schools
donation
sincerity
mayor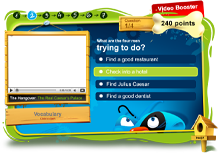 Améliorez votre anglais
Un Video Booster est un exercice vidéo d'anglais en 6 étapes qui vous permet de travailler le vocabulaire, les expressions idiomatiques et la grammaire d'un extrait vidéo.
Free Trial
Essai gratuit
Pour jouer ce Video booster, activez votre période d'essai gratuite de 3 jours. Vous aurez accès plus de 1.000 exercices vidéo comme celui-ci ainsi qu'à l'intégralité de nos dictionnaires visuels et jeux linguistiques.
Prévisualisation de la vidéo
Associated Press: Facebook Founder Gives $100 Million to Newark…
9 commentaires