Beautiful Creatures: Lena Rains On Ethan
1:03
Niveau de difficulté:
Facile
Beautiful Creatures:
Lena Rains On Ethan
In this clip from the movie about a small-town boy who meets and falls in love with a mysterious girl who has supernatural powers, Ethan (Alden Ehrenreich) tries to explain to Lena (Alice Englert) what it means to be human.
Vocabulaire clé
mortal
thunder
earthquake
yelling
pissed-off
scared
brat
deal with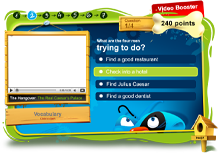 Améliorez votre anglais
Un Video Booster est un exercice vidéo d'anglais en 6 étapes qui vous permet de travailler le vocabulaire, les expressions idiomatiques et la grammaire d'un extrait vidéo.
Free Trial
Essai gratuit
Pour jouer ce Video booster, activez votre période d'essai gratuite de 3 jours. Vous aurez accès plus de 1.000 exercices vidéo comme celui-ci ainsi qu'à l'intégralité de nos dictionnaires visuels et jeux linguistiques.
Prévisualisation de la vidéo
Beautiful Creatures: Lena Rains On Ethan
23 commentaires