Best of 2012 - Frankenweenie: Mr. Whiskers' Dream
0:57
Niveau de difficulté:
Facile
Best of 2012 -…
Mr. Whiskers' Dream
In this scene from the animated movie Frankenweenie, Weird Girl tells Victor that her cat Mr. Whiskers had a dream about him. She talks about other omens that have appeared after Mr. Whiskers has dreamt about people.
Vocabulaire clé
omen
litter box
manhole
pitched
unconscious
knocked
dream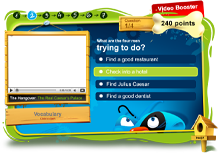 Améliorez votre anglais
Un Video Booster est un exercice vidéo d'anglais en 6 étapes qui vous permet de travailler le vocabulaire, les expressions idiomatiques et la grammaire d'un extrait vidéo.
Free Trial
Essai gratuit
Pour jouer ce Video booster, activez votre période d'essai gratuite de 3 jours. Vous aurez accès plus de 1.000 exercices vidéo comme celui-ci ainsi qu'à l'intégralité de nos dictionnaires visuels et jeux linguistiques.
Prévisualisation de la vidéo
Best of 2012 -…Mr. Whiskers' Dream
42 commentaires