Ice Age Continental Drift: Storm
1:01
Niveau de difficulté:
Facile
Ice Age Continental Drift:
Storm
Manny, Diego, and Sid are back in this third sequel in the Ice Age saga. Using an iceberg as a ship after their continent is set adrift, they encounter sea creatures and battle pirates as they explore a new world.
Vocabulaire clé
horizon
wife
crab
Huh?
We made it!
ocean
rainbow
buddy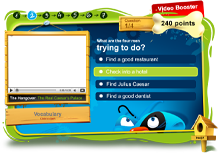 Améliorez votre anglais
Un Video Booster est un exercice vidéo d'anglais en 6 étapes qui vous permet de travailler le vocabulaire, les expressions idiomatiques et la grammaire d'un extrait vidéo.
Free Trial
Essai gratuit
Pour jouer ce Video booster, activez votre période d'essai gratuite de 3 jours. Vous aurez accès plus de 1.000 exercices vidéo comme celui-ci ainsi qu'à l'intégralité de nos dictionnaires visuels et jeux linguistiques.
Prévisualisation de la vidéo
Ice Age Continental Drift: Storm
71 commentaires