Joyful Noise: The Man In The Mirror
1:33
Niveau de difficulté:
Difficile
Joyful Noise:
The Man In The Mirror
In this clip from the movie about a small town Gospel Choir that is threatened with closure due to budget cuts, choir coach Vi Rose (Queen Latifah) is impressed with the rendition of a Michael Jackson song by one of her singers, Olivia (Keke Palmer).
Vocabulaire clé
disregard
difference
Mariah
pop
collar
church
wild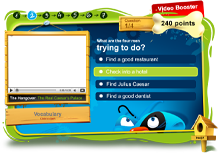 Améliorez votre anglais
Un Video Booster est un exercice vidéo d'anglais en 6 étapes qui vous permet de travailler le vocabulaire, les expressions idiomatiques et la grammaire d'un extrait vidéo.
Free Trial
Essai gratuit
Pour jouer ce Video booster, activez votre période d'essai gratuite de 3 jours. Vous aurez accès plus de 1.000 exercices vidéo comme celui-ci ainsi qu'à l'intégralité de nos dictionnaires visuels et jeux linguistiques.
Prévisualisation de la vidéo
Joyful Noise: The Man In The Mirror
11 commentaires