Justin Bieber: Boyfriend
3:31
Niveau de difficulté:
Facile
Justin Bieber:
Boyfriend
Justin Bieber sings the hit 2012 single "Boyfriend" from his third studio album. It is a departure from his usual style as it is a R&B and hip-hop influenced song that features pop beats reminiscent of American record producer Pharrell Williams and boy band 'N Sync.
Vocabulaire clé
boyfriend
blow
Swag
falsetto
Buzz Lightyear
globe
gentleman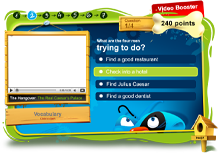 Améliorez votre anglais
Un Video Booster est un exercice vidéo d'anglais en 6 étapes qui vous permet de travailler le vocabulaire, les expressions idiomatiques et la grammaire d'un extrait vidéo.
Free Trial
Essai gratuit
Pour jouer ce Video booster, activez votre période d'essai gratuite de 3 jours. Vous aurez accès plus de 1.000 exercices vidéo comme celui-ci ainsi qu'à l'intégralité de nos dictionnaires visuels et jeux linguistiques.
Prévisualisation de la vidéo
17 commentaires