Lady Gaga: The Edge of Glory
5:28
Niveau de difficulté:
Intermédiaire
Lady Gaga:
The Edge of Glory
Watch Lady Gaga perform The Edge of Glory in her new music video.
Vocabulaire clé
rush
belong
glory
edge
moment of truth
reason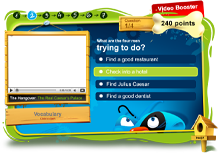 Améliorez votre anglais
Un Video Booster est un exercice vidéo d'anglais en 6 étapes qui vous permet de travailler le vocabulaire, les expressions idiomatiques et la grammaire d'un extrait vidéo.
Free Trial
Essai gratuit
Pour jouer ce Video booster, activez votre période d'essai gratuite de 3 jours. Vous aurez accès plus de 1.000 exercices vidéo comme celui-ci ainsi qu'à l'intégralité de nos dictionnaires visuels et jeux linguistiques.
Prévisualisation de la vidéo
Lady Gaga: The Edge of Glory
27 commentaires