The Lucky One: Can I Help You?
1:59
Niveau de difficulté:
Facile
The Lucky One:
Can I Help You?
Logan (Zac Efron) is a marine returning from duty in Iraq, where he found a photograph of a girl he has now tracked down to where she lives in Louisiana. In this scene, he visits the dog kennel where the girl (Taylor Schilling) works, and realizes that she thinks he has come about an advertised job.
Vocabulaire clé
shepherd
confirm
well-behaved
got off the road
bomb dog
a long story
Marine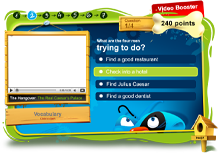 Améliorez votre anglais
Un Video Booster est un exercice vidéo d'anglais en 6 étapes qui vous permet de travailler le vocabulaire, les expressions idiomatiques et la grammaire d'un extrait vidéo.
Free Trial
Essai gratuit
Pour jouer ce Video booster, activez votre période d'essai gratuite de 3 jours. Vous aurez accès plus de 1.000 exercices vidéo comme celui-ci ainsi qu'à l'intégralité de nos dictionnaires visuels et jeux linguistiques.
Prévisualisation de la vidéo
The Lucky One: Can I Help You?
15 commentaires