Men In Black III: Look Right Here
0:42
Niveau de difficulté:
Facile
Men In Black III:
Look Right Here
In this clip from the second sequel to the original Men in Black comedy/science fiction hit, Agent J and Agent K (Will Smith and Tommy Lee Jones) control a crowd of witnesses with the famous neuralyzer (or flashy thing)...
Vocabulaire clé
associate
demonstrate
flight attendant
cell phone
satellites
'cause
GPS
ain't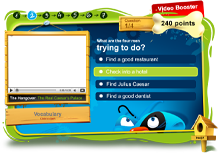 Améliorez votre anglais
Un Video Booster est un exercice vidéo d'anglais en 6 étapes qui vous permet de travailler le vocabulaire, les expressions idiomatiques et la grammaire d'un extrait vidéo.
Free Trial
Essai gratuit
Pour jouer ce Video booster, activez votre période d'essai gratuite de 3 jours. Vous aurez accès plus de 1.000 exercices vidéo comme celui-ci ainsi qu'à l'intégralité de nos dictionnaires visuels et jeux linguistiques.
Prévisualisation de la vidéo
Men In Black III: Look Right Here
30 commentaires