NASA: Curiosity's 7 Minutes Of Terror
5:08
Niveau de difficulté:
Difficile
NASA:
Curiosity's 7 Minutes Of Terror
The team preparing the landing of the Mars Rover, nicknamed "Curiosity," share the challenges of the spacecraft's final minutes before landing on the Red Planet's surface. Includes stunning illustration of the landing stages and techniques.
Vocabulaire clé
choreography
drag
constrained
supersonic
descent
velocity
maneuver
tether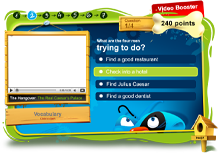 Améliorez votre anglais
Un Video Booster est un exercice vidéo d'anglais en 6 étapes qui vous permet de travailler le vocabulaire, les expressions idiomatiques et la grammaire d'un extrait vidéo.
Free Trial
Essai gratuit
Pour jouer ce Video booster, activez votre période d'essai gratuite de 3 jours. Vous aurez accès plus de 1.000 exercices vidéo comme celui-ci ainsi qu'à l'intégralité de nos dictionnaires visuels et jeux linguistiques.
Prévisualisation de la vidéo
NASA: Curiosity's 7 Minutes Of Terror
12 commentaires