Norah Jones: Everybody Needs A Best Friend
2:26
Niveau de difficulté:
Facile
Norah Jones:
Everybody Needs A Best Friend
Music video by Norah Jones performing Everybody Needs A Best Friend, featuring on-screen performances by Mila Kunis and Mark Wahlberg.
Vocabulaire clé
hazy
royal breed
a ten
come to be
stuck with
fool
a bummer
decidedly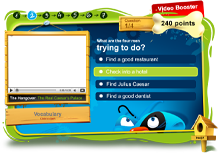 Améliorez votre anglais
Un Video Booster est un exercice vidéo d'anglais en 6 étapes qui vous permet de travailler le vocabulaire, les expressions idiomatiques et la grammaire d'un extrait vidéo.
Free Trial
Essai gratuit
Pour jouer ce Video booster, activez votre période d'essai gratuite de 3 jours. Vous aurez accès plus de 1.000 exercices vidéo comme celui-ci ainsi qu'à l'intégralité de nos dictionnaires visuels et jeux linguistiques.
Prévisualisation de la vidéo
Norah Jones: Everybody Needs A Best Friend
13 commentaires