Take This Waltz: Rickshaw Ride
1:26
Niveau de difficulté:
Facile
Take This Waltz:
Rickshaw Ride
Michelle Williams plays twenty-eight-year-old Margot, happily married to Lou (Seth Rogen), a good-natured cookbook author. But when Margot meets Daniel (Luke Kirby), a handsome artist that lives across the street, their mutual attraction is undeniable. In this clip, Margot is clearly uncomfortable when Daniel offers her and Lou a ride in his rickshaw.
Vocabulaire clé
rickshaw
neighborhood
anniversary
one for the history books
Oh boy
Congratulations
a ride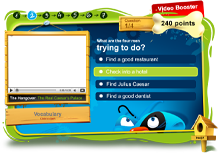 Améliorez votre anglais
Un Video Booster est un exercice vidéo d'anglais en 6 étapes qui vous permet de travailler le vocabulaire, les expressions idiomatiques et la grammaire d'un extrait vidéo.
Free Trial
Essai gratuit
Pour jouer ce Video booster, activez votre période d'essai gratuite de 3 jours. Vous aurez accès plus de 1.000 exercices vidéo comme celui-ci ainsi qu'à l'intégralité de nos dictionnaires visuels et jeux linguistiques.
Prévisualisation de la vidéo
Take This Waltz: Rickshaw Ride
21 commentaires