Twilight: New Moon: I Know What You Are
0:58
Niveau de difficulté:
Twilight: New Moon:
I Know What You Are
In this clip from the New Moon chapter of the Twilight sage, Bella (Kristen Stewart) finally tells Edward (Robert Pattison) that she knows who - or what - he really is.
Vocabulaire clé
impossibly
pale
a while
out loud
vampire
a different time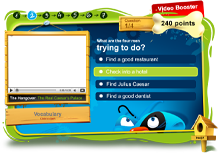 Améliorez votre anglais
Un Video Booster est un exercice vidéo d'anglais en 6 étapes qui vous permet de travailler le vocabulaire, les expressions idiomatiques et la grammaire d'un extrait vidéo.
Free Trial
Essai gratuit
Pour jouer ce Video booster, activez votre période d'essai gratuite de 3 jours. Vous aurez accès plus de 1.000 exercices vidéo comme celui-ci ainsi qu'à l'intégralité de nos dictionnaires visuels et jeux linguistiques.
Prévisualisation de la vidéo
Twilight: New Moon: I Know What You Are
17 commentaires