Videojug: How to Make Friends
2:41
Niveau de difficulté:
Intermédiaire
Videojug:
How to Make Friends
Videojug suggests ways to make new friends such as talking to a lot of people, making friends your priority and joining a group.
Vocabulaire clé
social
acquaintance
click
conversation starter
excruciating
compliment
small talk
flourish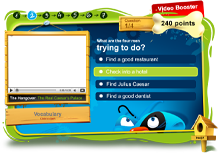 Améliorez votre anglais
Un Video Booster est un exercice vidéo d'anglais en 6 étapes qui vous permet de travailler le vocabulaire, les expressions idiomatiques et la grammaire d'un extrait vidéo.
Free Trial
Essai gratuit
Pour jouer ce Video booster, activez votre période d'essai gratuite de 3 jours. Vous aurez accès plus de 1.000 exercices vidéo comme celui-ci ainsi qu'à l'intégralité de nos dictionnaires visuels et jeux linguistiques.
Prévisualisation de la vidéo
Videojug: How to Make Friends
22 commentaires